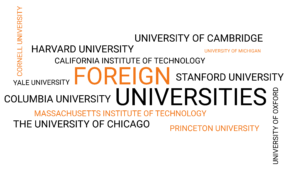 There is so much in the news regarding the New Education Policy and the entry of Foreign Universities in India. Although there are some advantages of opening of the education sector, there is a fear among certain segments, I thought to share some tips on how we can compete with foreign universities.

10 points formula, how we can compete with foreign universities.
As per the new Education Policy- NEP, the foreign universities are being granted permission to set up their campuses in India,
Although this move will improve the quality of education, but for local colleges and universities it will be very tough competition and they will have to struggle to attract admissions.
Here I got a few points for the local Indian Colleges and Universities as to how we can compete with Foreign Universities.
1. Go for International Accreditation: NBA and NAAC won't suffice we need accreditations like ASIC, ABET, etc.
2. Tie-Up with Global Industries for Internship: Internship gives students hand-on experience and increase their chances of being immediately employable upon graduation.
3. Upgrade your Labs: Our laboratories should be at par with the global universities.
4. Online Sessions must go on: Even if Covid-19 subsides, Online quality sessions must go on in parallel, we need to arrange good international faculties for online sessions.
5. Foreign Mentors: Involve foreign faculties in Mentoring and grooming students remotely.
6. Research Work: Involve foreign firms and faculty for research work, for eg. few american universities has put up their research labs in Silicon valley.
7. Use of ICT: We need to use good global ERP, LMS and MIS systems as foreign universities do.
8. If you can not beat them, join them: Plan for Sandwich courses, like 2 semesters with you and the rest semesters with Foreign university.
9. International Jobs: Most of the students vie for foreign universities as it also give them opportunity to work while studying or getting Job upon graduation. The placement cells must plan to fulfill this aspirations.
10. Unique Education System: Study the foreign universities model and take cues. Follow international curriculum or develop your own unique education system from style of teaching, learning to grades, sports to hostels (living ambience, campus environment)
Let me know your thoughts.